Our brands
Discover our high quality range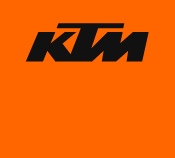 READY TO RACE
Powered by a distinct READY TO RACE mentality,KTM AG
is one of the Europe's leading high-performance street and offroad motorcycle manufacturer based in Mattighofen, Austria.
Over the years KTM has built a reputation as a fierce competitor on racetracks around the world.
Remarkable success on the world stage is reflected in every product it creates and every move it makes. With an established presence in the offroad segments, KTM has progressed to become one of the world's most innovative manufacturers of street motorcycles, and now aims to be the world's biggest manufacturer of sport motorcycles.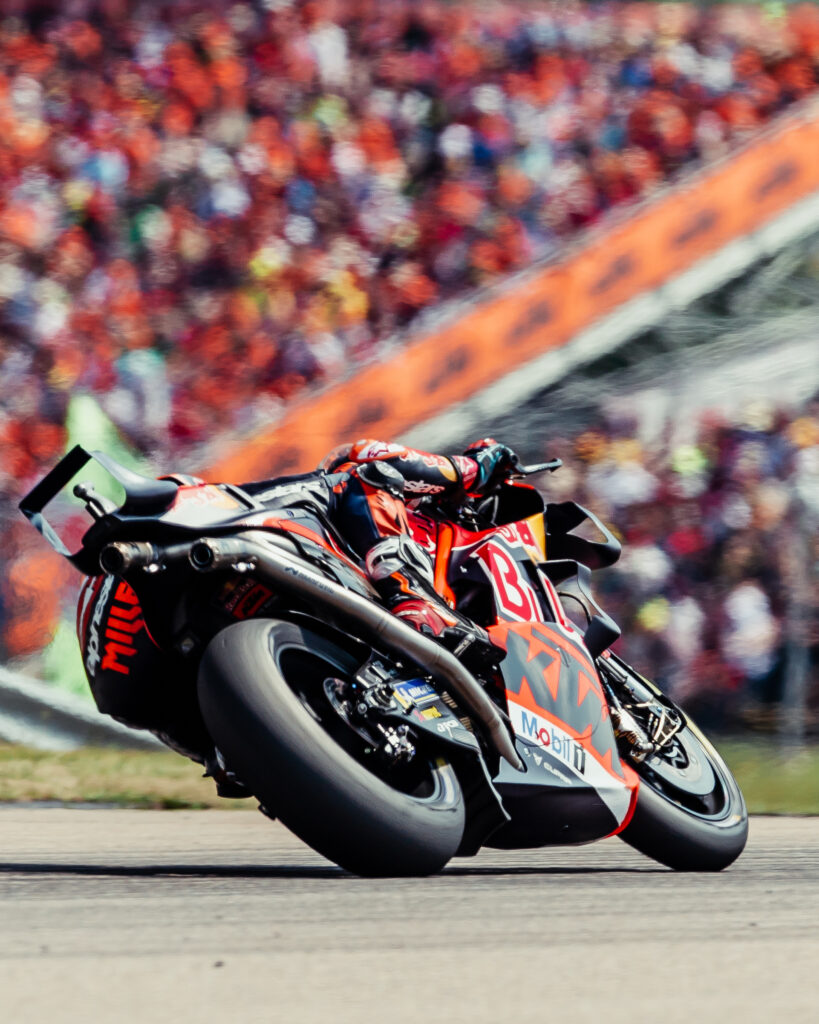 Race proven
KTM always strives for perfection, which has ultimately led to the extremely satisfying results the company has achieved. All our model ranges are 100% race-proven.
0
TITLES

KTM has achieved more than 320 world championship titles
0
VICTORIES
KTM is the most successful MOTO3 brand
0
MANUFACTURER

EUROPE'S LARGEST
MOTORCYCLE MANUFACTURER

0
RALLY DAKAR VICTORIES
NUMBER of RALLY DAKAR victories achieved in series
KtM worldwide
Our brands can be found in various destinations across the globe. KTM is proud to be an internationally renowned, respected and – most importantly – fast growing company.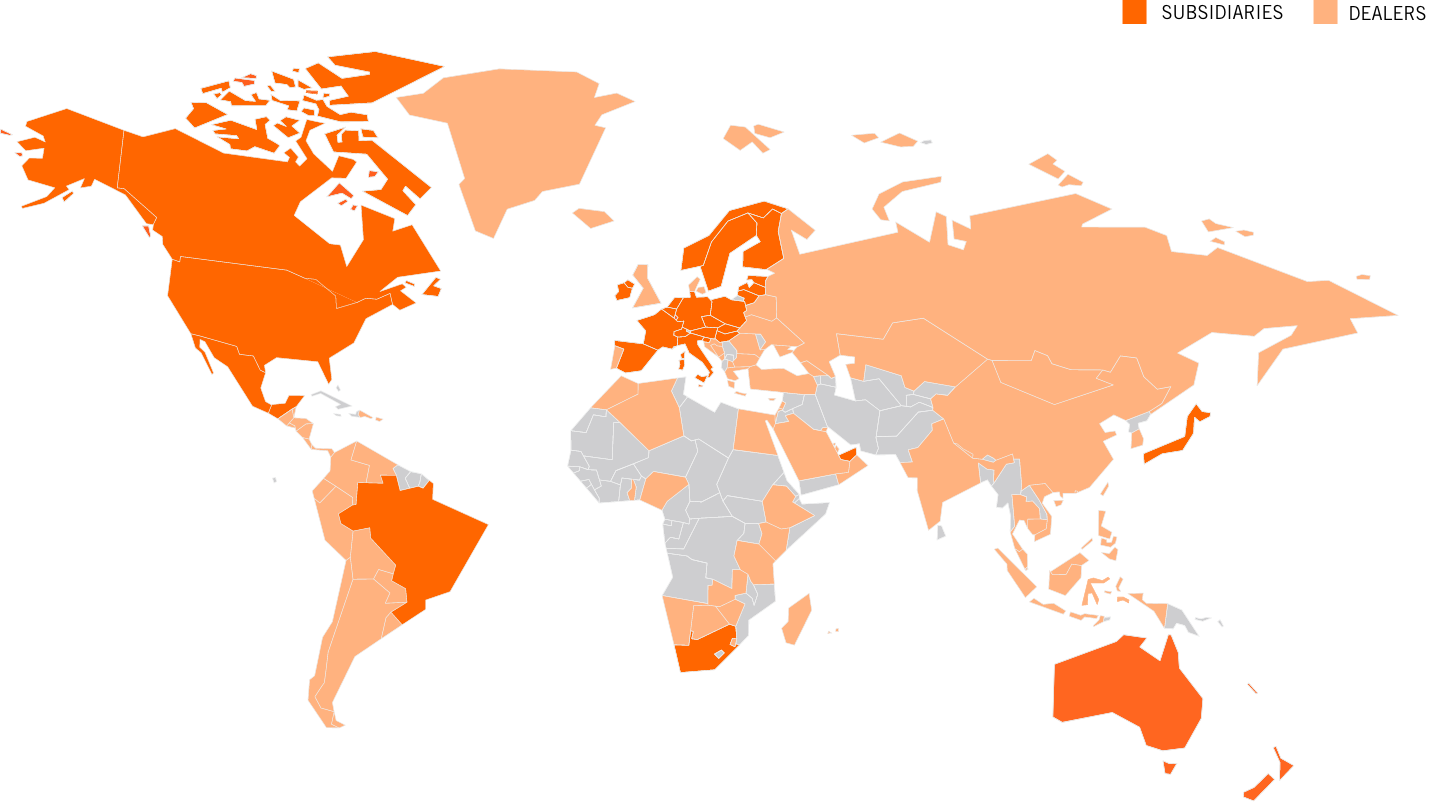 BRAND VALUES
No matter what discipline it is – KTM always strives for the crown in racing!
PURITY
Every single KTM showcases the purity of the design and uncompromising function that defines the READY TO RACE mentality. Out on your bike, looking ahead, and in the zone – nothing else matters. Taking the power and performance in your own hands and unleashing it at will, without distraction. No wasted space or weight – just everything you need for the ultimate ride. This is pure optimization taken to the limit.
Performance
Key to motorcycling is performance. For this is what really gets the pulse racing every time you head off on your bike. It is the one area that can touch all your senses and truly move you. With pupils dilated, pulse elevated, and mind at its most alert – performance induces an intense hyper-reality. This is why performance is the very foundation of KTM's READY TO RACE philosophy. For without exceptional performance, victory is just not an option.
ADVENTURE
Adventure is a hunger to explore – being willing to forego the safety of the 9-to-5 routine. It is a conscious decision to go beyond. Far outside your known world, miles past your comfort zone, and far beyond the visible horizon. For KTM, adventure represents a true test of your own limits of skill, character, resourcefulness, and survival. Adventuring is not for everyone, but for those who commit to it, there is no end. So, get out there and go adventure!
Extreme
Extreme circumstances expose weakness, highlight strength, and reveal the extraordinary. KTM's commitment to living life to the extreme and building extreme motorcycles guarantees that every KTM ignites intense emotions and delivers pure thrills.
SIMPLE AND PROGRESSIVE
Husqvarna Motorcycles is flourishing globally – a revitalised brand with a rich heritage. Shaped by its unique and distinct origins, where only the purest and smartest solutions could endure the rugged Scandinavian landscape. Leading the way when it comes to forward-thinking innovation, today the European premium manufacturer offers motorcycles that set the benchmark for quality, aesthetics and high performance.
NUMBERS AND FACTS
Husqvarna Motorcycles is one of the oldest motorcycle manufacturers in the world and now continues this trajectory with impressive new models and technical leadership.
0
YEARS
LONG HISTORY WITH A RICH HERITAGE
0
MOTORCYCLES
SOLD SINCE 2013
0
YEAR

JOINED THE KTM GROUP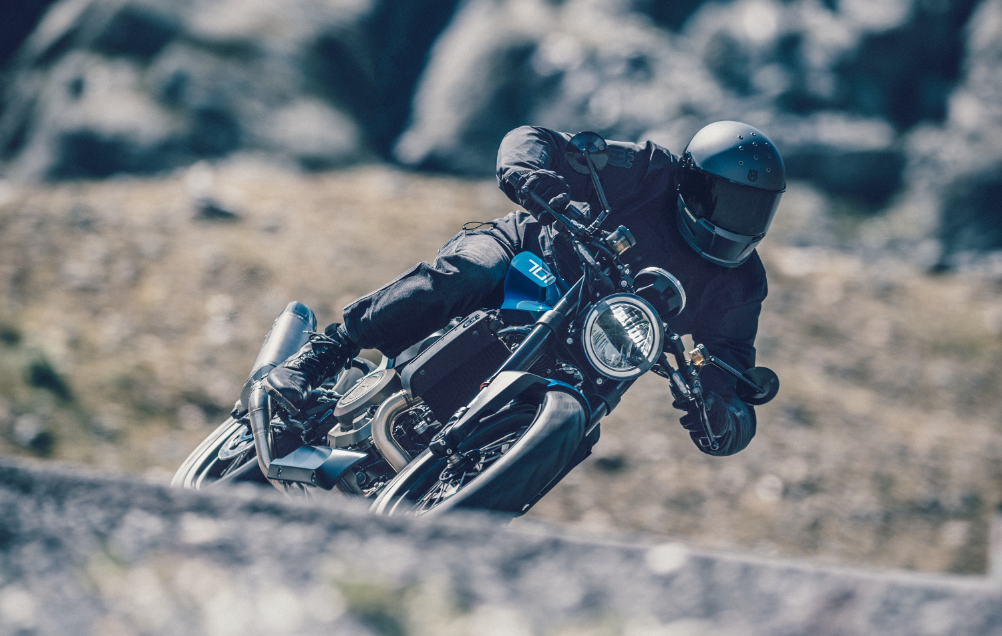 History of Husqvarna Motorcycles
Husqvarna Motorcycles is a brand that has never given up on its brand promise and remains committed to fulfilling its progressive vision of street and offroad motorcycling
1903
BIRTH OF A LEGEND
Husqvarna's first motorcycle was produced in 1903 – a "motorised bicycle". As the world's second oldest motorcycle manufacturer with uninterrupted production, Husqvarna has thankfully learnt a thing or two over the course of over a century of development.
1963
THE GLORIOUS 60S AND 70S
A golden-age dawned for Husqvarna just as off-road motorcycling was booming in growth and popularity. Consistently winning the biggest global races and championships, Husqvarna became the dominant force in World Motocross.
1987
THE BIG SPLIT
When Husqvarna Motorcycles was bought by Cagiva MV Agusta in 1987 – plans were set to relocate to Italy by 1988. The core Husqvarna development team chose to remain in Sweden instead, breaking away and launching "Husaberg" in 1988.
2013
a historic reunion – two became one again!
In 2013, KTM AG (Husaberg's owner) bought Husqvarna Motorcycles, marking the reunion of two halves of the original Husqvarna brand of the 60s and 70s! The Husqvarna Motorcycles brand returned to its glorious origins with state-of-the-art technology and the iconic Swedish blue, yellow and white colour scheme.
2015
a new generation of street production models
When the 701 Supermoto production model arrived at dealers, the brand once more took a pioneering step forward as it formally re-entered the street segment. As the pure essence of Supermoto, the motorcycle combined understated design with premium-quality performance, to continue Husqvarna's long and successful Supermoto heritage.
2018
breaking new ground
With electric mobility becoming an ever-present reality, Husqvarna Motorcycles announced its entry into the market with the EE 5 mini-crosser and range of electric bicycles at the EICMA motorcycle exhibition.
2019
broadening horizons
Husqvarna Motorcycles unveils the Norden 901 Concept at the 2019 EICMA motorcycle exhibition, promising an entry into the travel segment, in addition to announcing a return to Moto3 racing.
2020
west meets east
Husqvarna Motorcycles becomes available in India, South East Asia and Latin America, launching into these markets with a collection of 200 cc and 250 cc street motorcycles in a bid to bolster sales and further grow the brand.
.
THE FUTURE OUTLOOK
The brand has a strong focus on innovation and progression, highlighted by the resugence of Husqvarna Motorcycles' presence on the street. The street range with its Vitpilen and Svartpilen models, is a bold step in this entirely new direction.
CORE VALUES
Husqvarna Motorcycles has been setting trends since 1903 instead of just chasing them.
dynamic.
accessible.
Husqvarna Motorcycles is a dynamic brand that adapts quickly to the latest market trends. The rapid development and implementation of new concepts and products, following rigorous and in-depth testing procedures, allow us to manufacture machines that are tailored to different customer target groups across the globe.
Read More
Availability is through an established network of knowledgeable dealers, who are trained to educate, support and provide an unrivalled service throughout the purchase journey. Our comprehensive product range provides DYNAMIC riding experiences that are ACCESSIBLE to all levels of riders, from novice through to the most accomplished and capable of enthusiasts. Each motorcycle is meticulously designed and crafted from the ground up to provide the ultimate performance in its desired discipline. Our drive is to progress from concepts to production models within just a few years, and to completely redesign each segment's product line every 3 to 4 years, with developments and visual refreshments yearly.
Read Less
simple.
Progressive.
With our dedication to continual research and development, Husqvarna Motorcycles is able to manufacture products that provide exceptional performance across the range. Striving to constantly evolve and refine our machines, our mission is to test and develop concepts that, once proven, are applied directly to our production motorcycles for consumers to enjoy.
Read More
Our product range features the latest technological advancements to help deliver a superior riding experience as we continue with our progress and commitment to building pure performance machines. All Husqvarna Motorcycles are SIMPLE in their form, easy-to-use and pure in their performance. Equally, all models are PROGRESSIVE when it comes to their technology as well as the brand's overall approach.
Read Less Get on the gas!
GASGAS motorcycles represents an exciting yet approachable entry point into the performance offroad motorcycle world.
With a rich and proud heritage in offroad motorcycle racing and trials competition, GASGAS has a distinct, Spanish style, with an inviting, down-to-earth character. This attitude is reflected in a robust product line, built to provide riders with the utmost enjoyment without any fuss.
GASGAS aims to be user-friendly, welcoming all riders, with a shared passion for motorcycling. This community-driven mindset bears testament to the vibrant and playful GASGAS persona.
Despite extensive competitive motorcycling credentials, GASGAS enables more riders to join in and share the enjoyment of the ride, welcoming new and old riders alike to offroad motorcycling – to add more fun into their ride and get on the "gas"!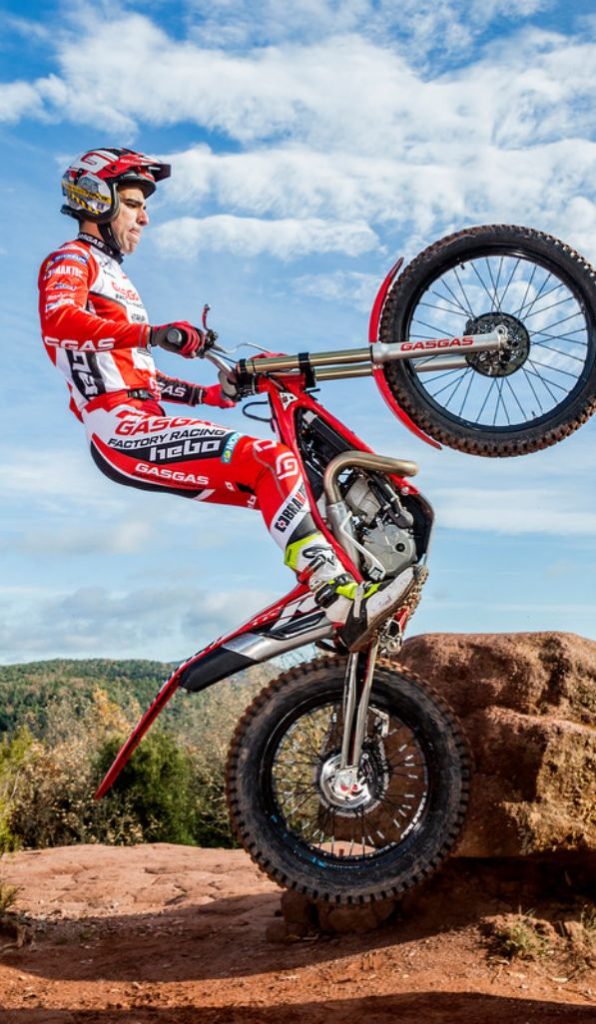 CORE VALUES
A brand experience that rests on four pillars – its core values:
DARING
is the brand's behavior and attitude; the courage and enthusiasm to face whatever comes your way.
CAPABLE
is the brand's role since joining "The Group";
many years of proven high-performance expertise, harnessed for your enjoyment.
VIBRANT
is the brand's distinct style and aesthetics;
distinct, loud and unmistakable – bursting with energy And excitement.
INVITING
is how the brand experience is packaged;
high-performance that's packaged to allow more riders to join in on the action.
JOIN OUR WINNING TEAM
The questions you should ask yourself first are: Are you the right match for us and are we the right match for you? If you can answer both of these questions with a resounding YES then apply now!
APPLY NOW